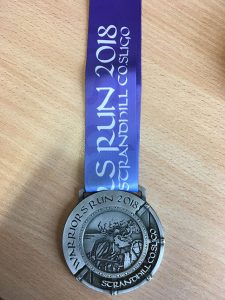 IT IS WITH GREAT REGRET AND FRUSTRATION THAT THIS YEAR'S WARRIORS RUN (2021) HAS BEEN CANCELLED.  THIS IS DUE TO ONGOING PUBLIC HEALTH CONCERNS ASSOCIATED WITH THE ONGOING COVID-19 PANDEMIC.  THE SAFETY OF OUR COMPETITORS, MARSHALLS, VOLUNTEERS AND STRANDHILL RESIDENTS IS FOREMOST IN OUR MINDS.  WE ARE ONCE AGAIN BITTERLY DISAPPOINTED BUT FINGERS CROSSED WE WILL BE BACK BIGGER AND BETTER IN 2022.  THE PLANNING STARTS NOW.
Welcome to Strandhill Co. Sligo, home of The Warriors Run, one of Ireland's toughest competitive races.
Strandhill village is 8 kilometres west of Sligo town, situated on the Atlantic seaboard and nestled at the foot of Knocknarea Mountain. On it's summit (1,070 ft), sits a megalithic cairn where Maeve the legendary Queen of Connaught is reputedly buried.
Each year runners from all over Ireland (and various parts of the world) converge on Strandhill to follow in the footsteps of her ancient warriors.
The Warriors Run takes competitors from the Cannon Gun at the beachfront in Strandhill to the top of Knocknarea, around Queen Maeve's Cairn and back to the beachfront again. For the uninitiated, a 15 Kilometre race might seem easy. Not the Warriors Run!  The race is classified as a road and hill race or multi-terrained, so whilst approximately nine of its kilometres are on paved roads, it is the special six kilometres in the middle, to the top of Knocknarea that gives the race its bite. These six kilometres include a 700 foot climb through fields, loose gravel, unsurfaced and heather paths. At its steepest incline on the way up, even the most professional athlete slows to a walk and then braces themselves to face the equally daunting downhill run, back down the often slippery slopes, even in the driest of weather.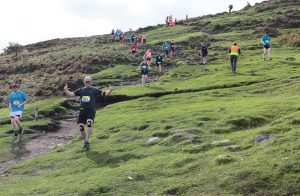 Despite the endurance trait of the race, each year around 1100 runners take part in this unique event to cross the finish line at the beachfront and earn the honour of being able to say that they completed The Warriors Run. Indeed, in 2017, 2018 and 2019, all competitors across the finish line, were handsomely rewarded with a beautiful bespoke medal to celebrate their achievement.
Check out all the activity from our Warriors Run Strava group